We proudly offer a complete line of L.A. Spas.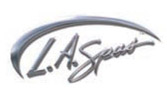 The Ultimate Water Management System has set L.A. Spas apart as the industry leader in efficient water management. Silently, the Ultimate Water Management System maintains crystal clear water at all temperatures 24-hours a day. The Ultimate Water Management System combines our state-of the- art ozone mixing system and patented Aqua Klean® filtration, leaving your water sparkling clean, fresh, and pure.
At L.A. Spas you can have your spa "The Way You Want It." Most manufacturers offer limited options and literally no variation of jet configurations. L.A. Spas believes you should have custom options and the ability of choice to build and configure your hot tub just for you. It's a simple process, select the spa model that best fits your needs for comfort, decide on the right concentration of jets and features then simply pick your favorite colors. At L.A. Spas creating your personal hot tub doesn't have to be difficult, it's simply a matter of choice!  A manner of living that reflects a person's values and attitudes.
Lifestyle truly begins at home whether you wish to enjoy quiet time alone, entertain with friends or host a party. L.A. Spas is the perfect solution to dress up your backyard for a festive gathering or provide a totally serene and effortless environment for personal relaxation.
L.A. Spas are a functional yet elegant way to gather friends and loved ones together for a dynamic therapeutic experience. There's no need to worry about expensive chemicals or labor intensive maintenance, as L.A. Spas are among the easiest hot tubs to care for. With the L.A. Spas Ultimate Water Management System, your hot tub will always be sparkling clean, fresh and ready when your lifestyle demands some time to relax and recover.
Come on in to select the perfect L.A. Spas for you.  You can also check out L.A. Spas web.